We are updating this gallery of prints by adding the ability to purchase each print on each page. This will take some time so you might see some "Buy" buttons, and you might see pages that look different from each other. We'll be done soon, but in the mean time the "Buy" buttons do not yet work, and we have yet to edit some pages.
We look forward to providing a way to purchase soon, and thank you for your patience in the mean time.
You can of course still see and enjoy each of the art prints below. Please contact us if you have any questions, or if you wish to purchase a print or painting now.
Available Prints
Fine art prints of original paintings by Lisa Strazza.
These prints are signed by the artist Lisa Strazza and are made here in her personal studio – they are of the highest quality.  We choose to use fine art paper as we love the color and texture which best compliments the brushwork and details. They look gorgeous matted and framed.
Prints come in one size: 17 x 25 inches – (which matted and framed is approximately 24 x 32 on the wall – depending on the image).
Price: $220 (each). To purchase, contact us with the name of the painting/s using our Contact Page and we'll get back to you with purchase details.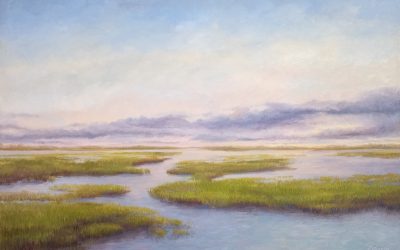 High Tide on the Marsh
Oil painting on canvas
Size: 30 x 20
Sold